Council to the police: What else can we do for you?
The cops walk away from the table & get a pay raise anyway.

On Thursday City Council unanimously approved an ordinance aimed at deterring APD officers from quitting or retiring in the wake of the contract impasse.
The bust out pay
The ordinance, which will be in effect for one year, allows officers to cash out the same number of accrued sick leave hours that they are entitled to under the current union contract, which expires on March 31. Cops have been worried that if the city and union fail to negotiate a contract, they will lose tens of thousands of dollars worth of accrued sick leave, since the maximum allowed under the state civil service code is substantially lower than what the cops negotiated with the city. This ordinance ensures that their "bust out checks" will be as high as expected.
Salaries
The ordinance sets the pay at the levels negotiated in the current contract but also asks the city manager to come up with a proposed pay increase, along with some other financial incentives: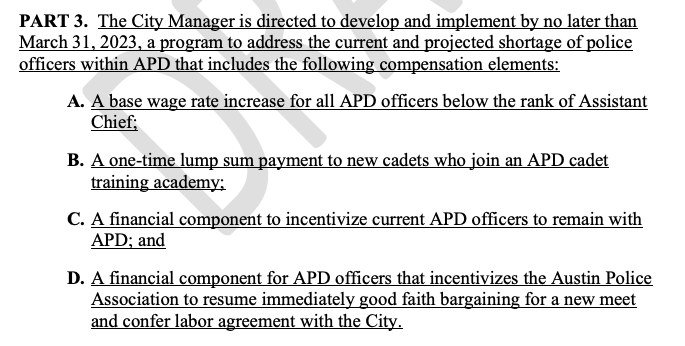 This should be interesting. What pay raise will Garza offer?
This post is for paying subscribers only
Already have an account? Sign in.