The race for City Council starts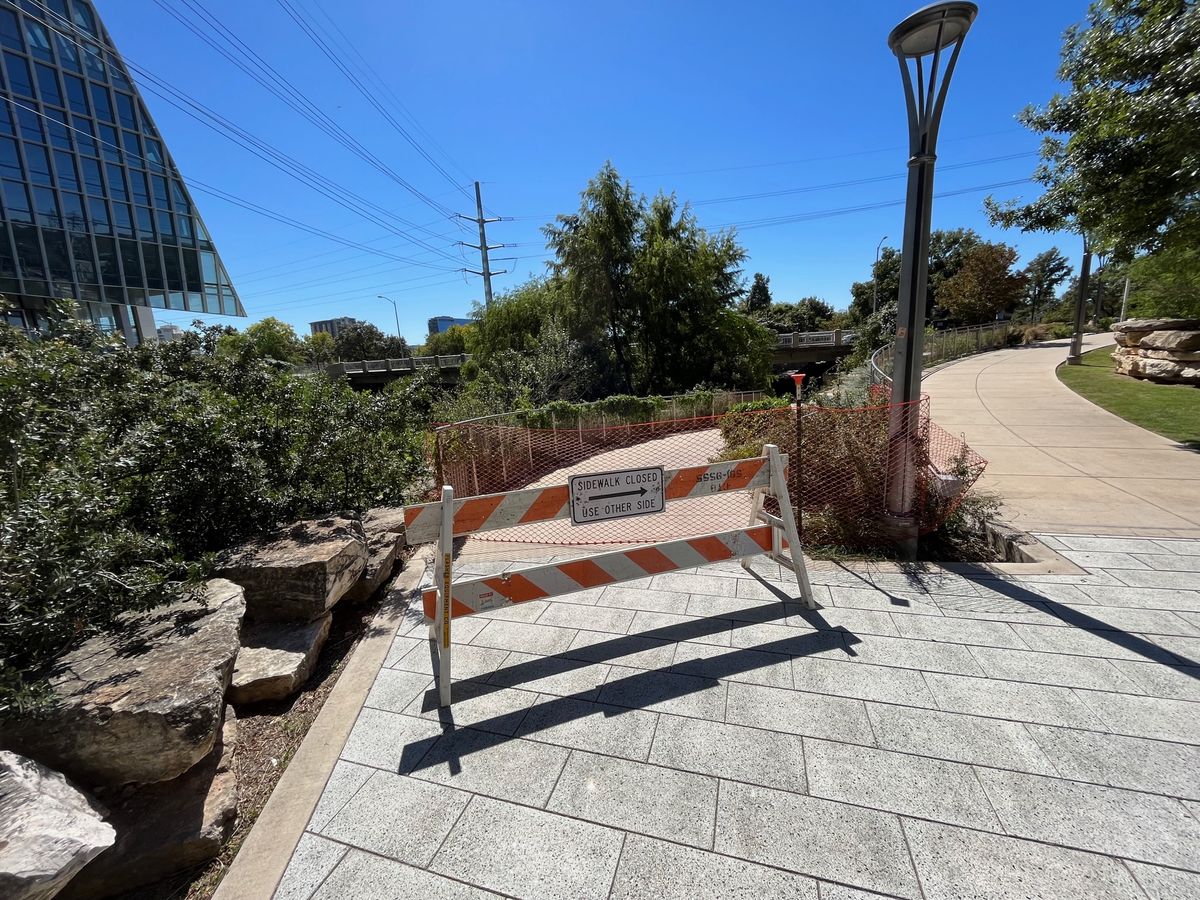 Siegel declares in D7 ...
Today Mike Siegel announced he is running to succeed Leslie Pool to represent District 7 on City Council. Pool, who is the only remaining Council member elected in the first 10-1 election in 2014, is termed out.
(Map of the Council districts here if you want a sense of D7)
If the name sounds familiar, Siegel ran two insurgent campaigns for Congress against longtime GOP Rep. Michael McCaul in 2018 and 2020. In neither election did he prevail, but he put up a much better fight (fundraising, organizing etc) and came closer than would generally be expected of a Dem candidate in a solidly red district.
Siegel later teamed up with Julie Oliver, who similarly ran two underdog campaigns for Congress in '18 and '20, to found Ground Game Texas, a group focused on pushing progressive policy in communities across the state, including those traditionally viewed as inhospitable to liberals. For instance, they have taken credit on getting pot decriminalization referenda passed in five cities: Austin, Denton, Kileen, Harker Heights.
Last year, Siegel led a group that fundraised and campaigned for Celia Israel for mayor and Zo Qadri for City Council during the runoff elections.
What are his politics on city issues? I'll have to wait to speak to him in greater detail, but there are some obvious parallels with Greg Casar: down-the-line progressive and very pro-housing. At Qadri's victory party in December, he heralded Zo's triumph as an end to "neighborhood protectionism."
So far his website does not include detailed issue positions but lists his record of fighting for progressive causes.
In a past life Siegel was an attorney for the city law department.
Pierre Nguyen
The other candidate who has declared so far is Pierre Nguyen. I don't know much about his politics yet. His campaign website includes relatively generic, inoffensive statements on four issues –– affordable housing, economic development, public safety, public transportation –– that don't offer a lot of clues about how he'd vote.
Nguyen was appointed six months ago to the Public Safety Commission by Pool and has served on two other city commissions in the past. According to Linkedin, for the past six years he's worked at American YouthWorks and is a volunteer firefighter for one of the local emergency service districts that operates in unincorporated Travis County.
Others to come?
I'm sure there will be other candidates. One likely candidate is Adam Powell, who works in tech and runs what appears to be a pretty popular TikTok about Austin history and politics. He says he is "strongly considering" a run. Like Siegel, he appears to also be a progressive YIMBY.
The question is whether an anti-development type will declare. Like Leslie Pool from 2015-22. We'll see.
It looks like the $15M stitch is dead
Nobody on City Council appears interested in spending $14M+ to expand a pedestrian/bike bridge that TxDOT plans to build across I-35 as part of the expansion of that highway.
Today, in response to concerns voiced by some Council members, Richard Mendoza, interim director of the Transportation & Public Works Dept, presented an alternative for the bridge at Woodland Ave that will cost a lot less and may very likely be better.
It appears to be an interesting little example of how quickly things can get better if a few people ask the right questions.
Below was the original concept proposed by TxDOT. Like most things designed by TxDOT, it is completely oblivious and/or indifferent to the pedestrian or bicyclist experience. It is not aligned with the actual street, but would force walkers and cyclists to go out of their way and through a piss-stinking tunnel to cross the highway.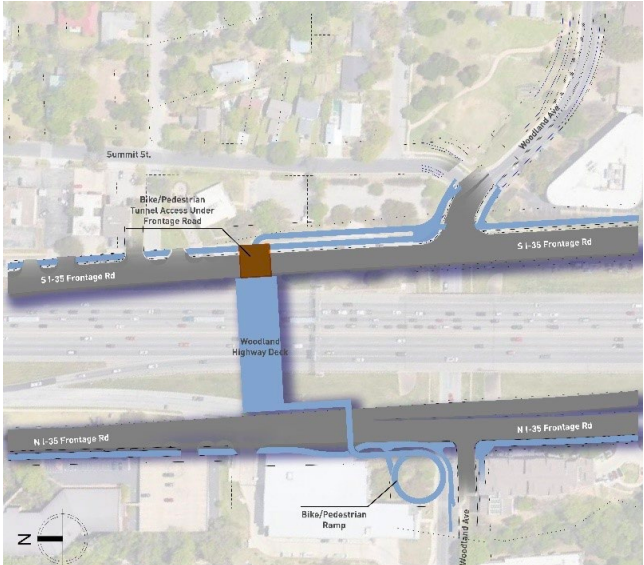 What the city initially proposed was a bridge that would better-align with Woodland and, at a cost of $15 million to city taxpayers, a deck for people to hang out on and watch 20 lanes of cars go by.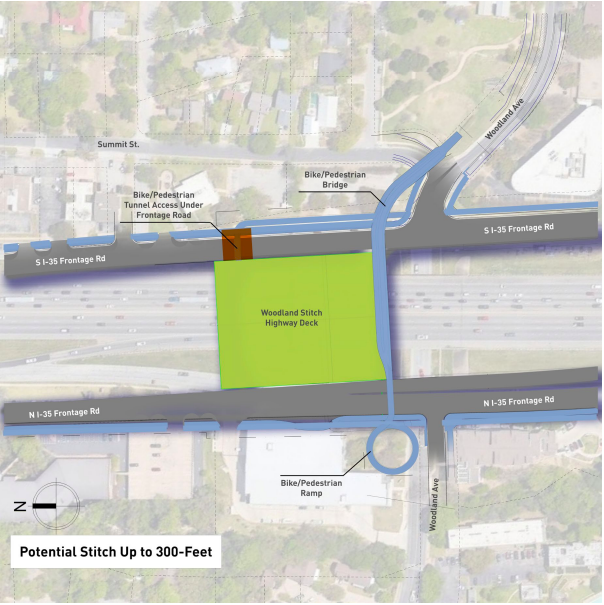 However, after public pushback from at least one Council member, city staff came up with a third option. A bridge aligned with Woodland, no tunnel and no deck of dubious value.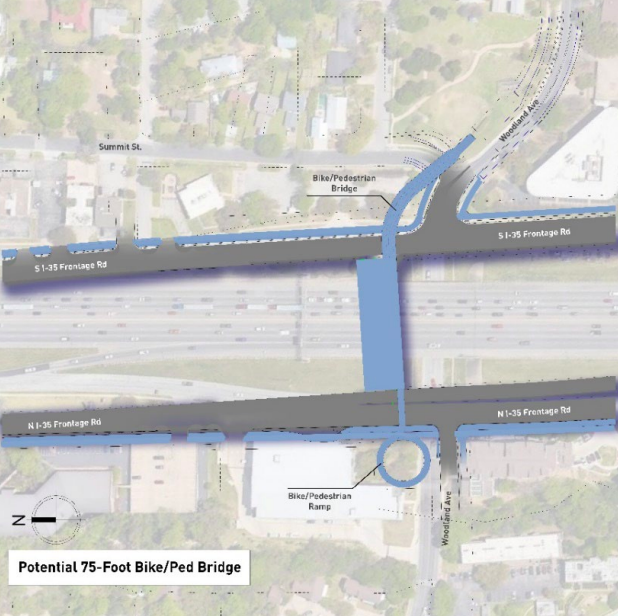 However, even this modest clean-up of TxDOT's mess will cost the city money. Mendoza estimated "up to $2 million" to design the bridge to line up with Woodland, although he said it will "probably be less."
One after another, Council members voiced their support for the new option: Ellis, Vela, Pool, Velasquez. Nobody spoke in favor of maintaining the deck.
Which begs the question: where did the push for this weird deck come from? It had no champions on Council and city staff didn't make much of an effort to argue in its favor.