Who wants to be a cop in Austin?
Fewer cops are quitting. But fewer are joining.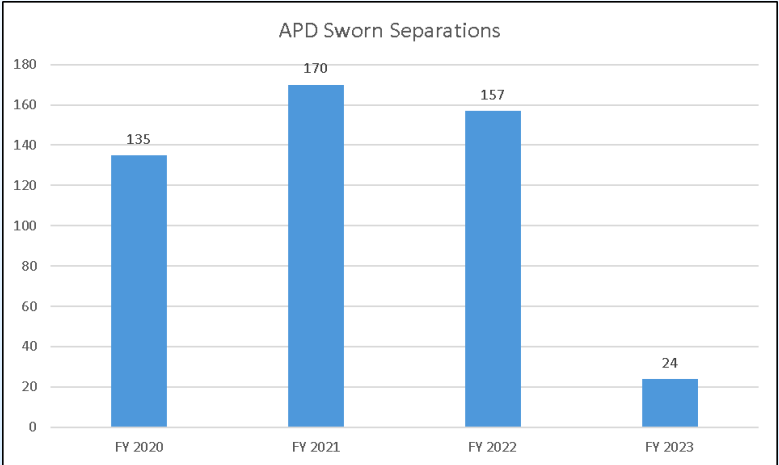 If you want more cops on the street, I've got good news and bad news.
The good news is that resignations and retirements appear to have slowed down after a big spike in the two years following the 2020 Black Lives Matter protests and City Council's controversial "reimagining of public safety" exercise.
The bad news is the department is having a really hard time hiring new cops.
The current situation
Right now APD has an authorized force of 1,812 officers but only 1,577 of those positions are filled.
For a bit of context, a little over a year ago, in November 2021, the police union warned that about 15 officers were leaving a month and, at that rate, the sworn force would be down to 1501 by January 2023.
However, as the data below indicate, departures have slowed in recent months. We're already a quarter of the way through the 2023 Fiscal Year, which began in October, so at this pace we'll only see about 100 separations this fiscal year.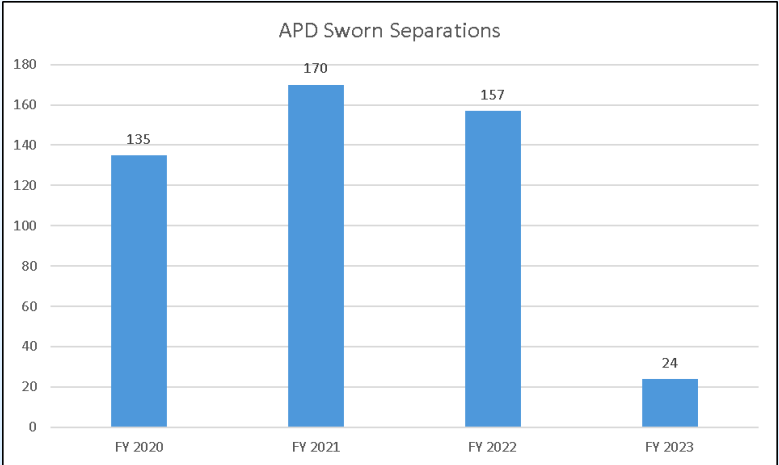 Why the slowdown? Without looking more closely at the data, my guess is the past two years were unique: political turmoil + a large number of veteran cops eligible for full retirement benefits. This trend has played out elsewhere around the country due to a big surge of cops hired in the 90's and early 2000's who are now retiring.
However, the recruitment situation looks pretty bleak. Traditionally, about 100 cadets enroll in the Austin Police Academy and about 80 of them graduate and become officers. Now, however: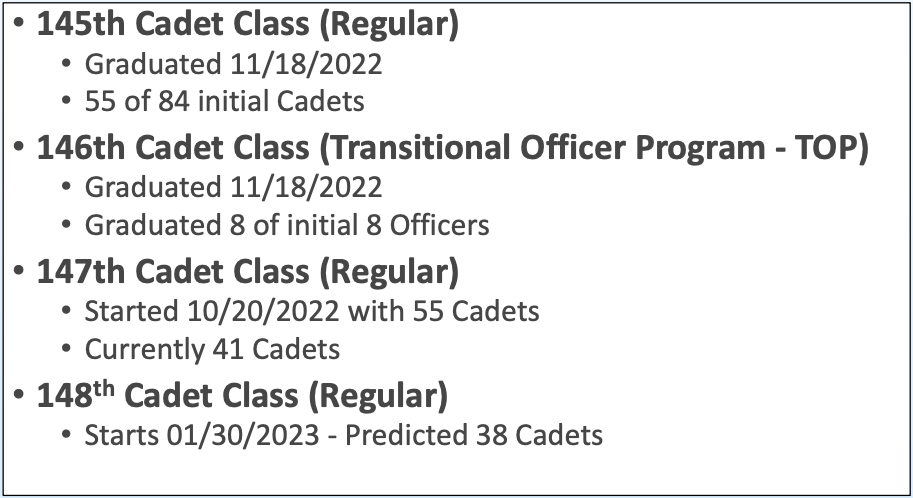 APD Chief of Staff Robin Henderson said the department is not getting nearly as many applications for the academy as typically expected.
Plus, she said, the department is now running the academy more frequently, so "the applicant pool doesn't build as much because we are starting a class essentially every four months.
Hmm…this second point is superfluous. They're doing more classes because they can't get enough applicants for a full class.
What's the issue?
This is a national trend. Police departments across the country are struggling to recruit new cops. There are likely some mundane economic factors at play, but it would be naive to dismiss the role that politics has played in discouraging young people from joining the profession.
Should we expect this trend to be particularly pronounced in Austin? Probably. After all, at one point every single member of our City Council signed a pledge, "No Cash From Cops," to refuse contributions from police unions. The sheer number of officers who have been indicted during DA Jose Garza's tenure may also scare away some aspiring cops from beginning their careers here.
Another potential Austin-specific factor is the high cost of housing. Austin cops are notoriously averse to living within the city limits, but housing prices are still high in the greater metro area.
Austin officers are the highest paid in the state. Paying them even more might help recruiting, of course, but where does the money come from? I think money is the more appropriate response to the much more severe staffing crisis facing the 911 center, because those people are not making good money.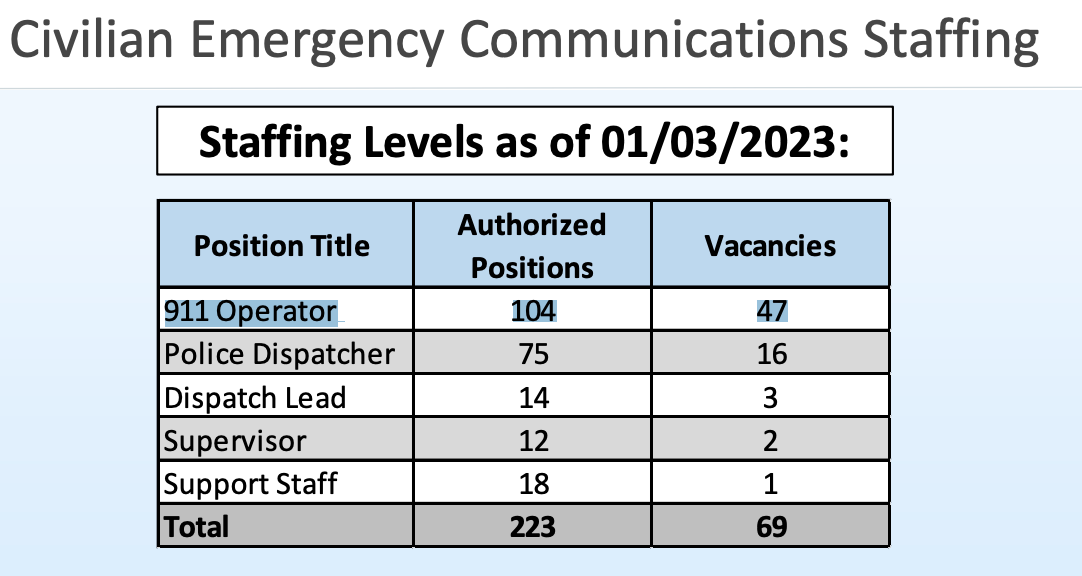 Where are we heading?
If separations and recruitment continue at the current pace, then APD is poised to see a slight increase in staffing by the end of the year. With the big wave of retirements behind it, perhaps the police department is now in a position to rebuild.
My question: If the politics surrounding policing has clearly discouraged many from the profession, who are the select few who are still want to be cops? Are they more or less receptive to the critiques of traditional policing than veteran officers?
Let me put it another way: are cities like Austin that are trying to "reimagine" policing actually going to succeed in attracting open-minded, compassionate people to the profession? Or has policing been so thoroughly stigmatized on the left that the only people who will want to become cops anymore are reactionary meatheads?