Whose fault is this?
Did Austin just get dealt a bad hand?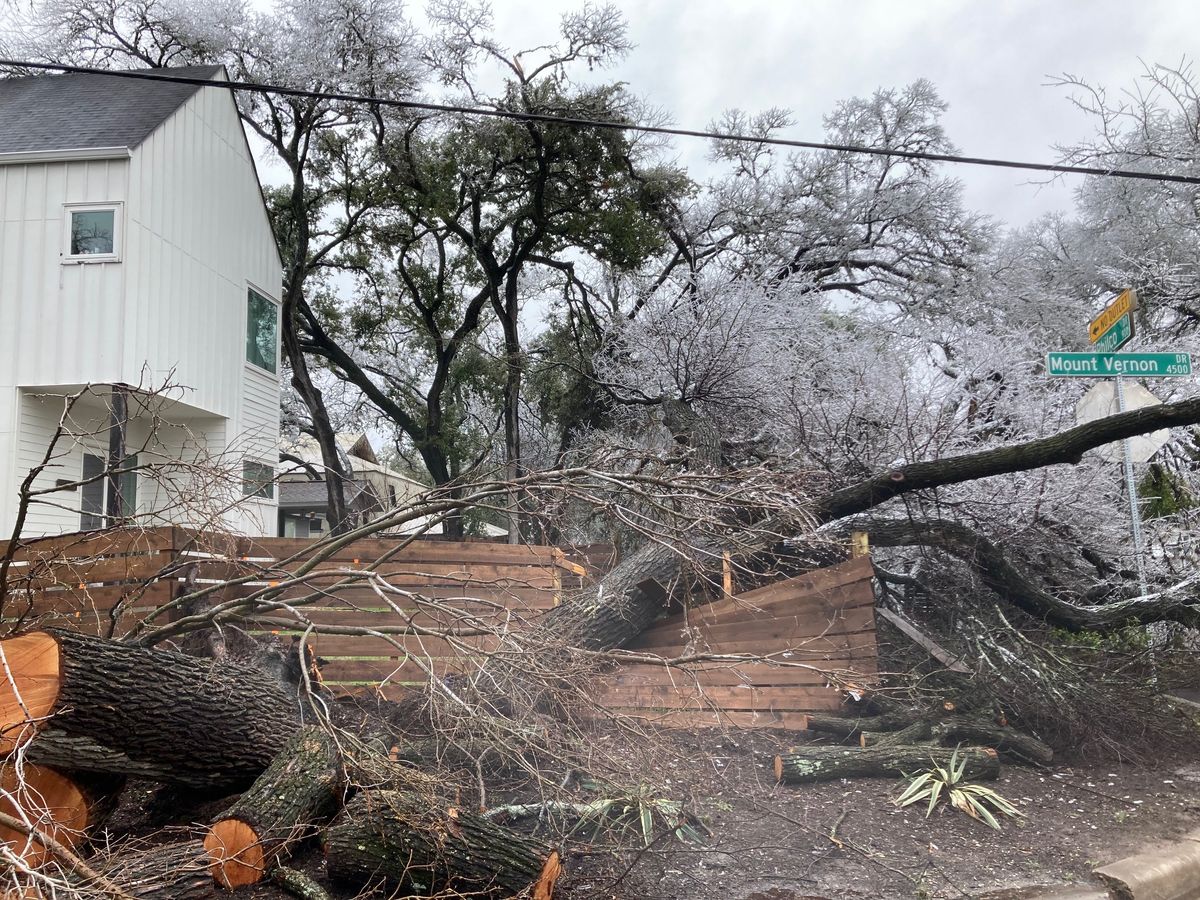 Well, after four-and-a-half glorious hours of restored power yesterday, the lights went out at around 7:30 p.m. and have yet to come back on. My entire neighborhood is dark, including the traffic lights at the intersection of SH 71 and Menchaca. We were fortunate enough to bunk up with friends in Zilker last night and it's very possible we'll have to do the same thing again tonight.
The latest from Austin Energy is that the previously-stated commitment to restore all power by 6 p.m. Friday is getting a little wobbly:
Talk to us, Austin Energy
If there's one critique that everyone seems to agree on, it's that the city in general and Austin Energy in particular have once again fallen short on communications.
For instance, at around 4 pm yesterday the utility tweeted that "outages may extend into [Thursday]."
And yet, at 7:30 pm, AE General Manager Jackie Sargent disclosed in an email to City Council members that power would be fully restored by 6 pm Friday. Some Council members relayed that information online, but AE itself did not.
This is inexplicable and inexcusable.
It wasn't until this morning that the city held a press conference to brief the media on the situation. Mayor Kirk Watson expressed frustration with AE's communications and said the press conference should have happened earlier.
"I'll admit, I deferred to folks," said Watson, referring to city management.
And yet Sargent defended the utility's communications, saying that the media team had responded to every press inquiry and "also published information on social media and we've used press releases and we've put banners on our website."
Asked why AE was sharing information with Council members that it wasn't sharing with the public, she said, "I think you all know that the mayor and City Council ... are our governing body and that keeping them informed is very important because they help us then reach the broader audience of our community and we appreciate their help and support in that way."
What an absurd statement that insults the intelligence of everyone watching. Austin Energy's own comms staff can't just tell us directly what's going on? They need to rely on City Council members as middle men?
As I'll discuss below, it's not easy, at least at this point, to determine how much blame the city and AE deserve for their technical response to the outages. But it is clear to see that they're failing on what should be the easiest part of the response: posting updates online. Does this stem from incompetence or did they actually make a decision not to share bad news with the public?
A few theories on the outages
Yesterday EMS Association president Selena Xie asked what many others are no doubt wondering:
So, let's go through the various explanations for why things were particularly bad in Austin.
Mother Nature
It looks like Austin got more freezing rain and ice accumulation than Texas's other major cities and most other neighboring communities in Central Texas. KVUE meteorologist Jordan Darensbourg helpfully shared some comparisons between Austin and other nearby cities: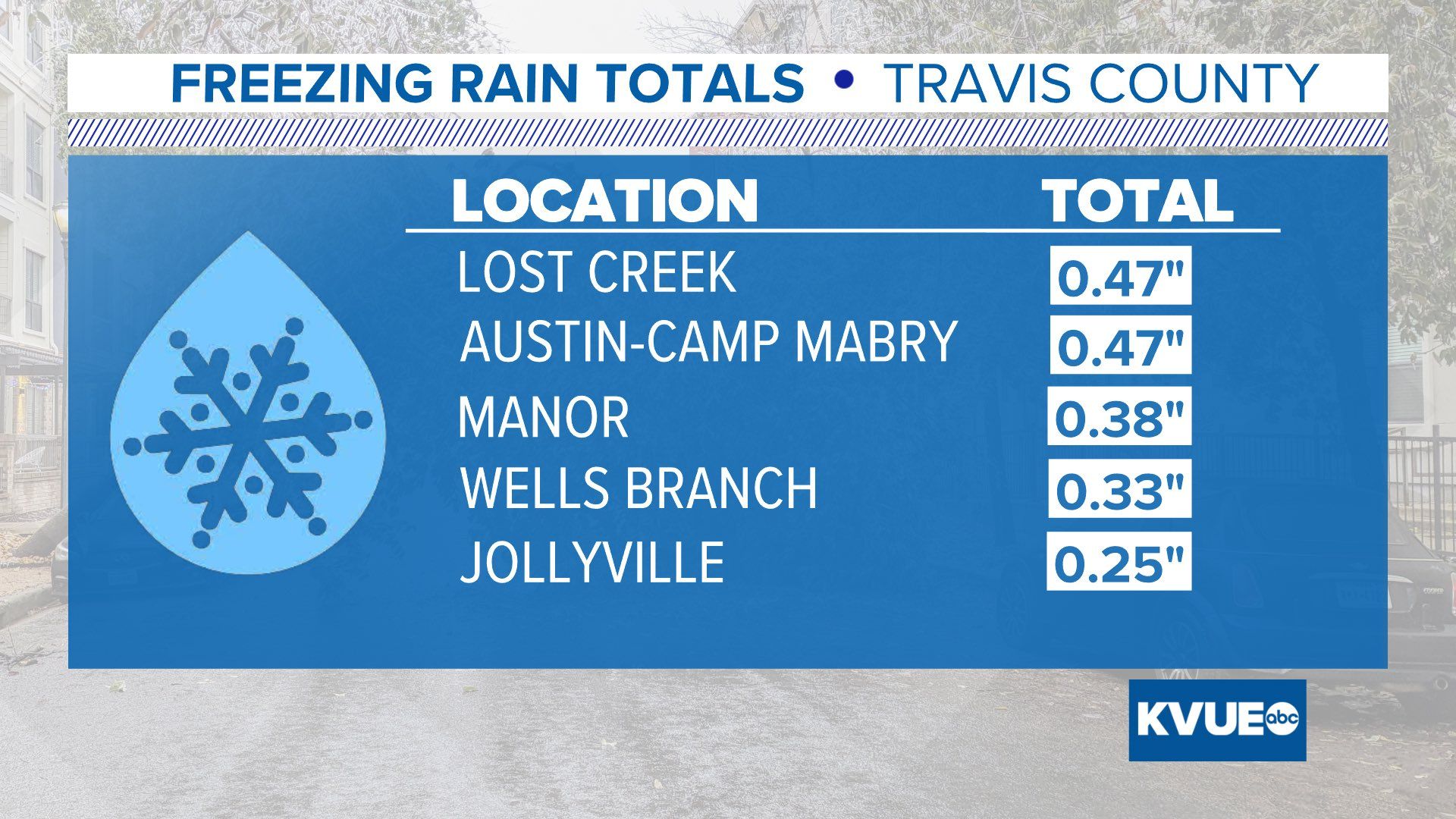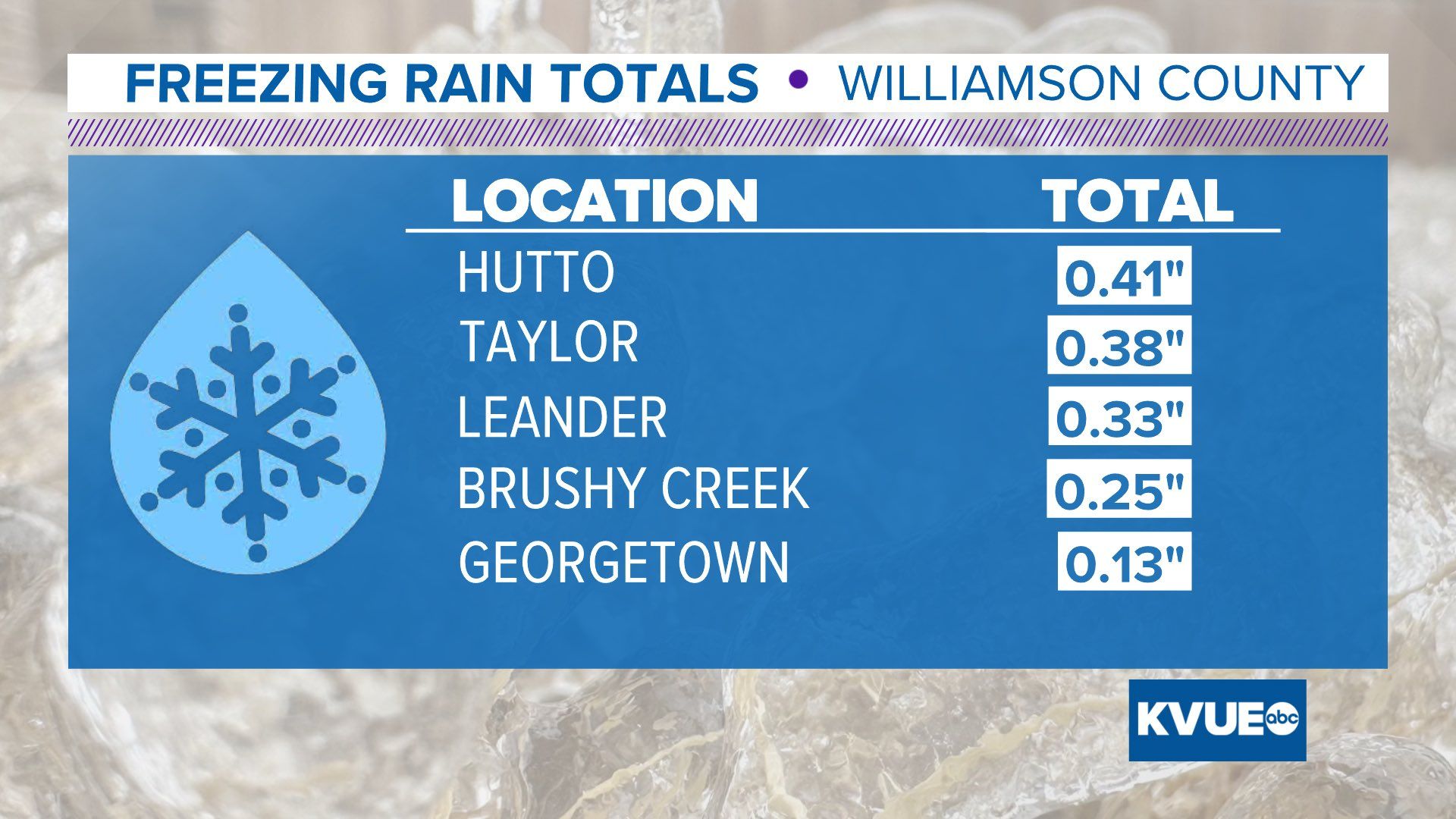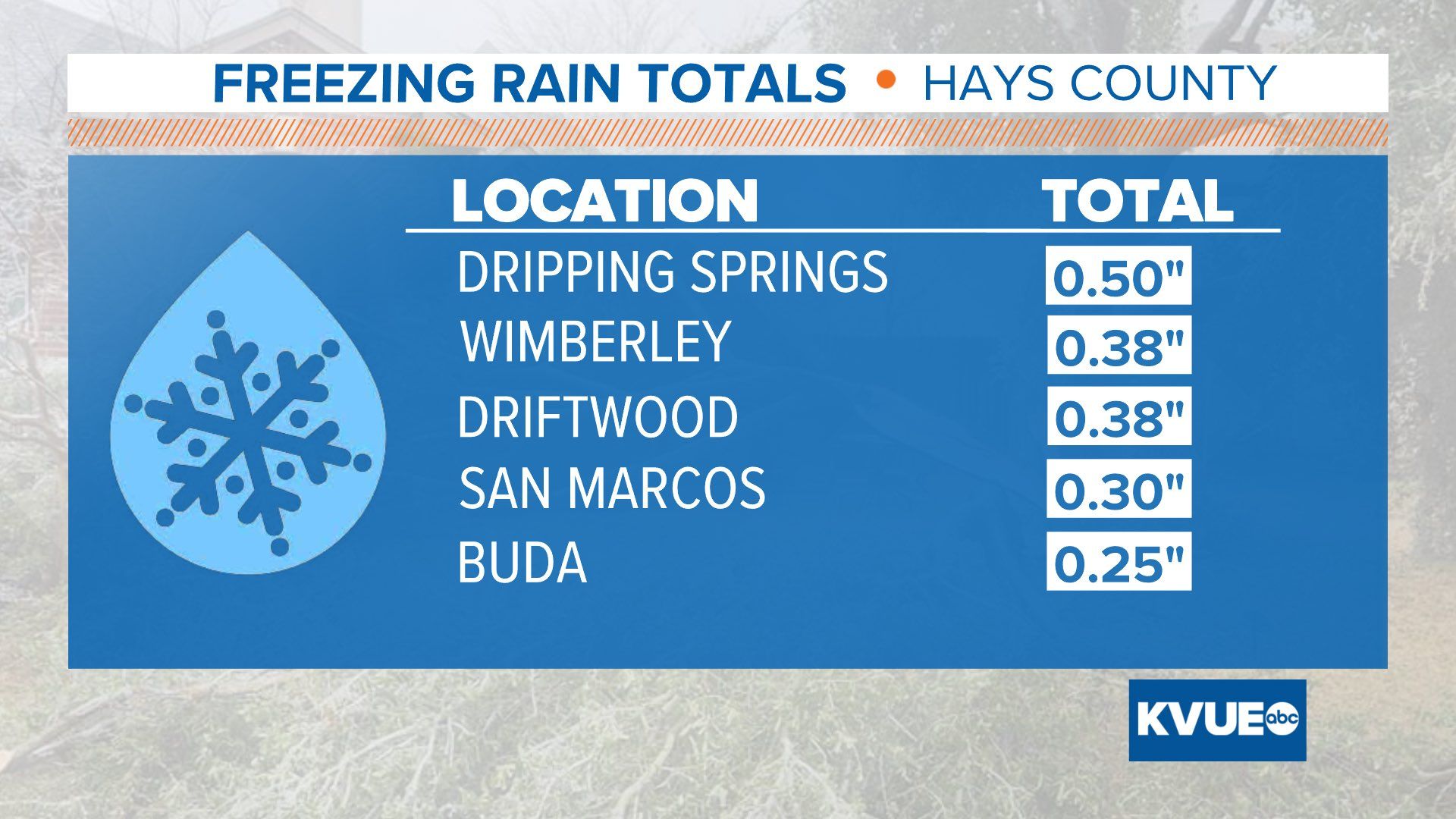 As you can see, Dripping Springs was the only community that experienced greater precipitation. A friend in Dripping tells me there are many without power and there are trees down all over the place. According to the outage map for Pedernales Coop, one of the big electrical providers in that area, 21% of its customers were without power at 2 pm.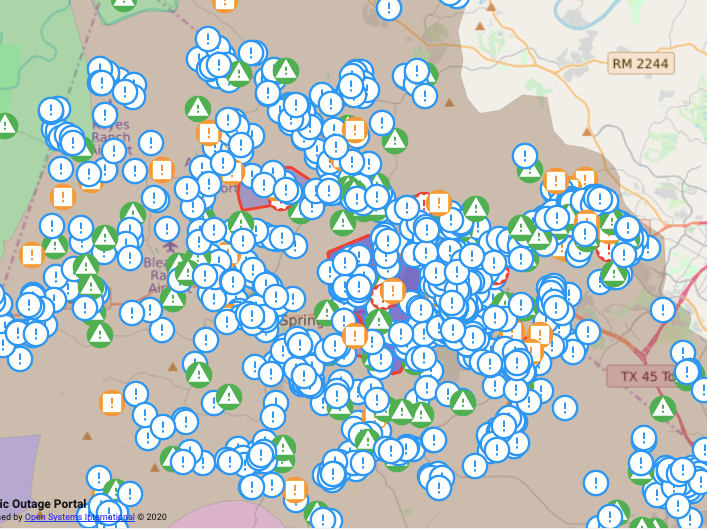 The situation appears similar for the Pedernales customers in Northwest Austin. (Remember: not all city of Austin residents are served by AE)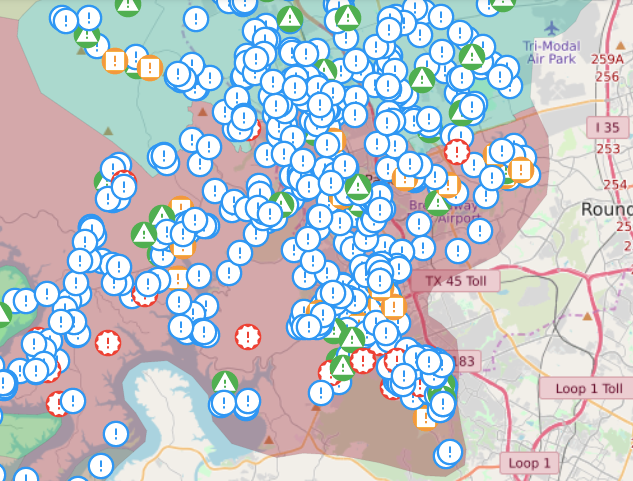 So Austin was definitely dealt a bad hand by Mother Nature.
"The amount of weight that has accumulated on the vegetation is probably a historic extreme," Sargent said at the press conference.
But let's consider some other potential targets for blame.
Austin Energy
Did the utility do enough in the wake of Winter Storm Uri to prepare for another major weather event? The Uri outages were mostly due to the embattled state grid, and were out of AE's control, but in the aftermath there was nevertheless plenty of discussion about the issues we're dealing with now: vegetation management, response to downed lines etc.
Sargent said that the utility has been focused on trimming trees in the past few years, noting that its vegetation management budget was recently increased. This is definitely a subject worthy of further scrutiny by Council and the media.
There's also the question of whether the utility adequately prepared in the days preceding the weather event. Did it make sure it would have enough staff on hand? Did it request mutual aid from neighboring utilities soon enough?
Sargent said the utility did "reach out to bring in crews ahead of time," although later she clarified that it "wasn't until we were into the situation and understood the extent of the damage" that they called for help. She noted that AE is part of a recently-formed group of nearby utilities, the Texas Public Power Corridor, which can call upon each other for assistance even when an emergency isn't declared by the governor.
The city manager
Austin Energy, like every other city department, is ultimately accountable to City Manager Spencer Cronk. Its failures are his failures. Any examination of the city's performance must take him into account.
In his own remarks at the press conference, which he could have organized the previous day, Cronk did not acknowledge any shortcomings on the part of his organization, which is par for the course.
If Cronk behaves in the wake of this crisis like he has in response to previous crises, he will deflect any uncomfortable questions about the city's handling. The question is whether City Council will continue to go along with it.
This article was provided for free to the public, but if you'd like to keep getting access to exclusive reporting and insights on local politics, please visit the website to become a subscriber for only $12/month or $120/year.