YIMBYs let it fly online
Local reps who voted against ADU bill get a taste of YIMBY rage.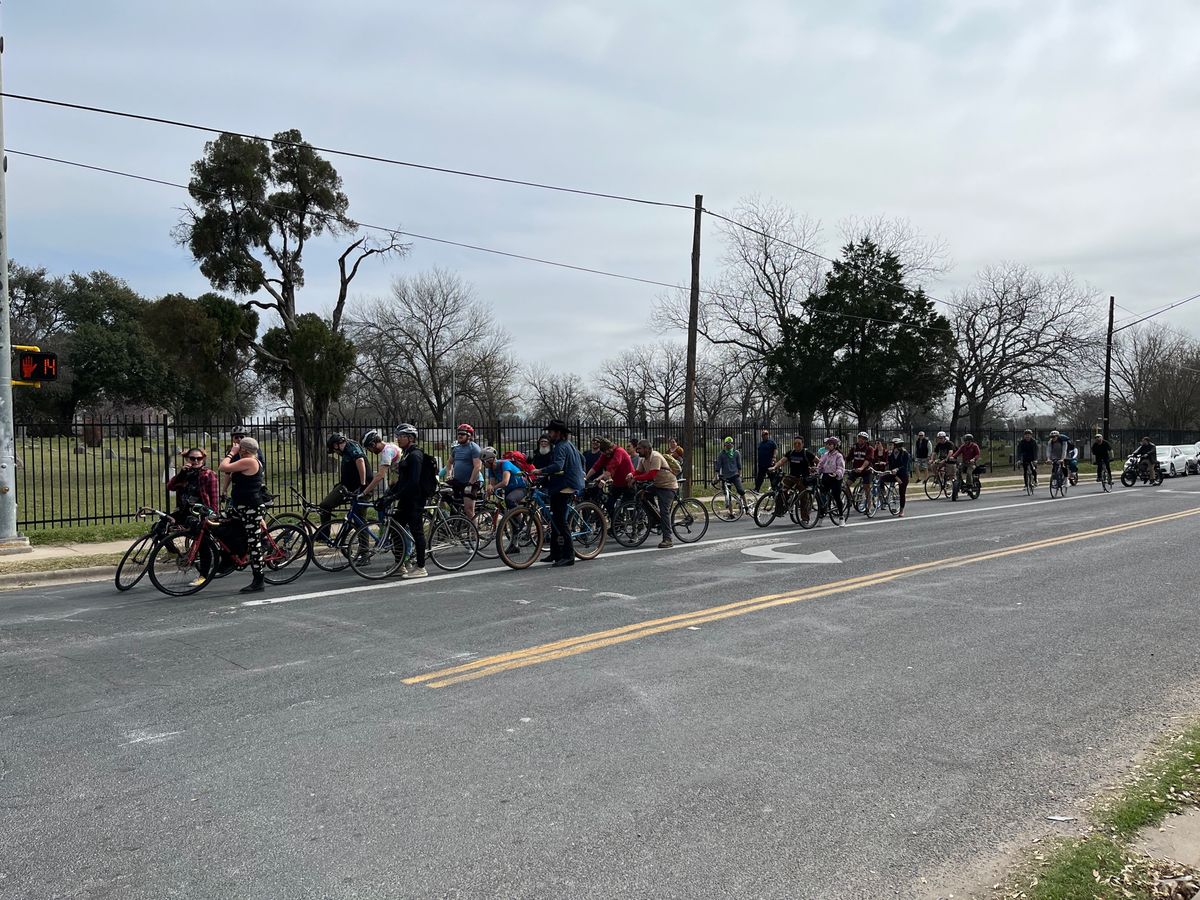 Alright folks. Today's letter will be a lazy one. I gotta clean up the house before the wife gets home from a work trip.
Did you hear me on KUT last week? Last Friday KUT transportation reporter Nathan Bernier generously afforded me a dozen seconds on the public airwaves to comment on the state of biking in Austin. The occasion was National Bike to Work Day; Bernier was asking why so few people in a city as lycra-clad as Austin cycle to their place of labor.
Some highlights:
...Why do so few people commute by bicycle? Austin has no shortage of obstacles: sweltering heat, sprawling layout, long rolling hills and even the air quality on some days.
E-bikes fix a lot of these problems. Austin Energy this year doubled its rebates for the electric rides.
But e-bikes don't guarantee your safety. Fear of getting injured or killed by a car is the biggest reason people don't ride bikes, research indicates.
Yup.
I chime in at the end:
Jack Craver, a political reporter who writes the Austin Politics Newsletter, says Austin talks a big game about getting people out of single-occupancy vehicles but isn't doing enough to allow other types of transportation to compete with cars.
"There's this tendency to think everybody drives here because the culture or it's Texas, you know, [driving] is just so much easier. But it's easier because all of our infrastructure focus has gone into making it as easy as possible to drive," Craver said. "Nobody has the guts to say, 'All right, we're going to take away some of that space from cars and dedicate it to something else.'"
A tad hyperbolic, perhaps. I should have said, "few have the guts." But hopefully that will change!
Part of making Austin a bike-friendly city is making big investments in urban trails as well as bike lanes that are truly protected (a substantial, solid separation between the bike lane and car traffic).
But a much cheaper alternative, that should be part of the mix, is simply reallocating space for cars to space for bikes. Narrowing or removing car lanes offers the additional benefit of reducing speeding and the consequent road carnage.
It's important to remember, however, that biking to work is not the only important metric of bike use, even if it's unfortunately the only one measured by the Census Bureau. Think about your own life: most trips you make are not to and from work. There are plenty of people who will never bike to work but would love to bike more often –– to go out to eat, to visit friends, to run errands, or for simple recreation.
Howard, Hinojosa, Flores get a dose of YIMBY Twitter rage: Twitter isn't real life etc but it's nevertheless striking to see how, um, negative engagement, several Austin state reps drew after voting against a bill that would have made it much easier to build ADUs.
I say from experience: that's a lot of likes and retweets for a housing policy tweet. The quote tweets all expressed the same sentiment.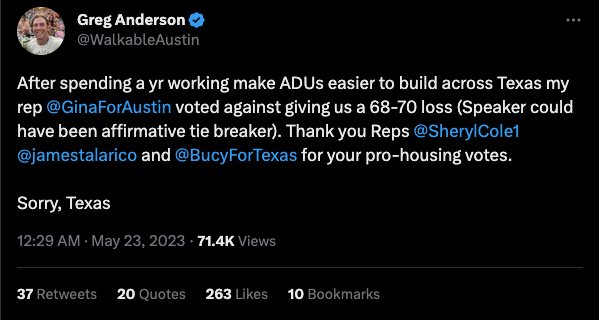 There were many, many other denunciations on social media, some of which were far less diplomatic.
I wouldn't be surprised if these reps, who likely aren't used to housing and land use being a major political issue, were caught off guard by the outrage. Howard and Hinojosa defended themselves, saying they were only voting for local control: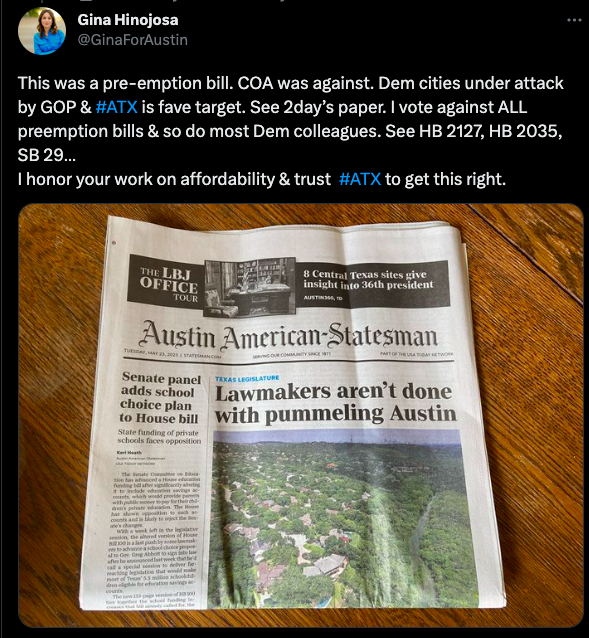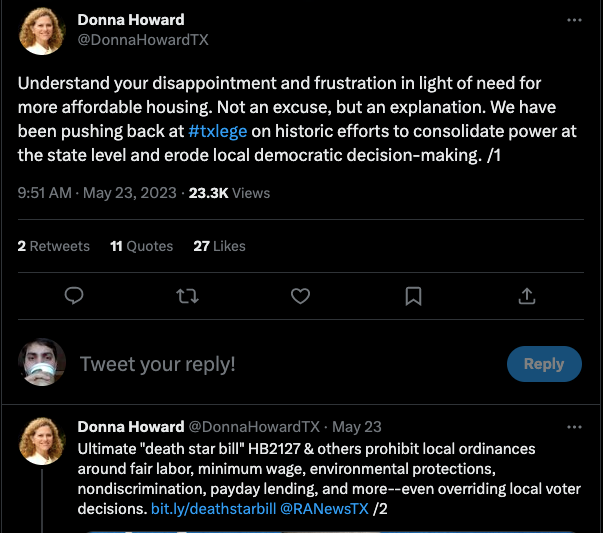 Interestingly, back in 2017, Hinojosa herself filed a bill that would require local governments to subject PUDs to the "valid petition" (requiring a 3/4 majority to approve if a certain % of nearby landowners oppose). This was ostensibly in response to the Grove PUD at 45th & Bull Creek Rd, which prompted furious opposition from a large number of surrounding homeowners. Where was the local control argument there? Why couldn't Austin decide for itself whether a small group of homeowners should be able to make it harder to put in place new zoning?
It's hopefully a sign of the times that Howard and Hinojosa's defense focused solely on the principle of local control, rather than "neighborhood character" or whatever. Hinojosa in particular has deep links to Austin's NIMBY network (she supported Laura Morrison for mayor in 2018), but perhaps she recognizes that that is increasingly an impediment, rather than an advantage, to her political career.
Local land use law wonk Chris Bradford shared some thoughts on the local control argument: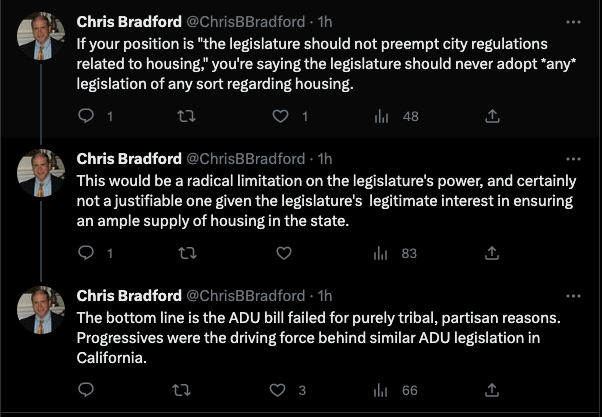 Regardless, the ball is now squarely in City Council's court. Says Melissa Beeler, an aide to Zo Qadri: