A big win for small lots
Finally: minimum lot size reform.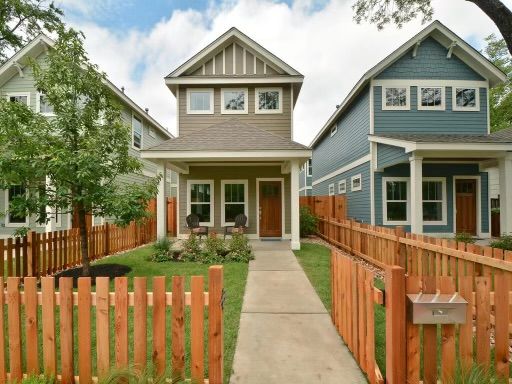 The long-awaited land use reform proposals teased in recent weeks by Council Member Leslie Pool are finally here.
A resolution posted on the agenda for next week's Council meeting calls on the city to reduce the minimum lot size from its current 5,750 sq ft to 2,500 sq ft or less. Moreover, it calls for allowing a minimum of three units on all lots that are currently zoned single-family.
I can't stress enough how surreal it is, not only to see such a bold reform on a City Council agenda, but to see the author be Leslie Pool, who until recently was one of the most reliable defenders of Austin's 40-year-old land use paradigm.
Lot size matters a lot
If I had to pick one regulation in Austin's land development code that best illustrates its elitist and exclusionary bent, the 5,750 square foot minimum lot size is definitely a strong candidate.
Because of minimum lot sizes, not only must you be able to afford the most expensive type of housing (detached single-family) to live in many of Austin's most desirable neighborhoods, but you must be able to afford a large front yard and back yard.
Austin's first minimum lot size, implemented in 1930, was 3,000 sq ft, before being raised to 3,500 sq ft in 1941. The current size was adopted in 1946 and has remained the same ever since.
Like zoning in general, minimum lot sizes have often been implemented by cities around the country to keep certain types of people out of certain neighborhoods. Although it wasn't until 1948 that the Supreme Court struck down racially restrictive deed restrictions –– a common mechanism used in Austin to bar Blacks and Hispanics from certain areas –– it's a good bet that the City Council that raised the minimum lot size in 1946 had race on their mind. Just like deed restrictions that mandated that homes cost a certain amount of money and prohibited second units, minimum lot sizes aimed to set a wealth threshold for entry to a neighborhood.
It's therefore hardly surprising that a City Council that has made affordable housing its top priority has its sights on minimum lot sizes.
It's a helluva change though. Seven years ago, infill builder David Whitworth realized that many properties in the North Loop neighborhood were actually made up of numerous small lots that were platted before the 1946 minimum lot size went into effect. By disaggregating them, he was able to build skinny houses that were much cheaper than the other single-family homes being built in the area. City staff lost its shit over this and City Council promptly adopted a code amendment to bar the practice. Pool, along with other neighborhood preservationists and even moderates like Mayor Steve Adler, voted in support of the prohibition.
Even the proposed code overhauls (CodeNEXT and its 2019 reincarnation) only proposed lowering the minimum lot size to 5,000 sq ft.
Will small lots lead to affordable housing? It depends what you mean by affordable. This isn't a policy aimed at housing for the poor. But it is one that could lead to housing options that are substantially cheaper than what is currently being built in single-family neighborhoods. It will facilitate greater economic diversity than the current code allows.
Three units per lot
Currently, many "single-family" properties already allow two units. On lots zoned SF-3, which is the most common zoning in Austin's central neighborhoods, you can either build a duplex (if the lot is at least 7,000 sq ft) or you can build a main unit plus an ADU (which is capped at 1,100 sq ft).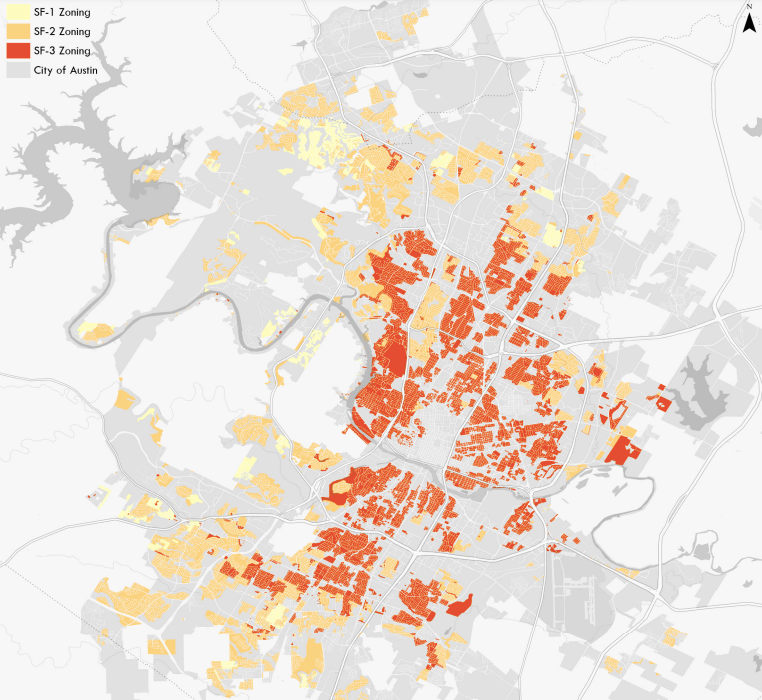 Under the proposed reform, all lots (SF-1, SF-2, SF-3) would allow a minimum of three units. This is the same baseline that was set several years ago in Minneapolis' new code, which drew a lot of attention for "eliminating single-family zoning."
It's a detail of ancient history that nobody except me remembers now, but in 2018 Mayor Steve Adler once suggested three-units per lot as an alternative to the dreaded "transition zones" that caused so much heartache during the dark days of CodeNEXT.
In Minneapolis, it doesn't yet appear that many developers have taken advantage of the three unit entitlement. Instead, the big increases in housing (and stabilization in rents) is likely due to wonkier changes that have facilitated more multi-family housing, such as reduced parking requirements. That doesn't mean it's not a good idea, though.
Pray for Jesús
This resolution is poised to pass. But it means nothing until city staff takes the recommendations and turns them into an ordinance. The measure calls for staff to return with an ordinance by Dec. 14, but it's certainly not unheard of for city staff to ignore deadlines or simply to wait until the last minute and then request a lengthy extension.
There are already ample signs on other housing-related resolutions that staff is not fulfilling the spirit of Interim City Manager Jesús Garza's pledge to have a "bias for action."