Austin & DPS break up again
But why is this the mayor's call?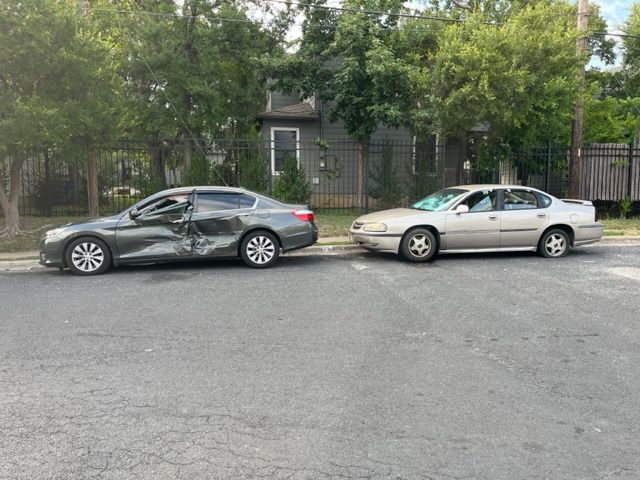 Wait, what? At 11:23 this morning I see a press release from the city of Austin announcing that, only 10 days after resuming its patrol collab with the Texas Department of Public Safety, Interim City Manager Jesús Garza has decided to "suspend" the partnership "in consultation with Mayor Kirk Watson."
A vague statement justifying the move comes not from Garza, the one actually tasked with the city's day-to-day management, but Watson:
"From the start of this partnership with DPS, I said I wanted Austinites to feel safe and be safe. Recent events demonstrate we need to suspend the partnership with DPS. The safety of our community is a primary function of City government, and we must keep trying to get it right," Watson said. "This partnership was an innovative approach to address acute staffing shortages that were years in the making. However, any approach must be in sync with Austin values."
This came only two days after Watson went on TV to defend the partnership, calling it a "practical, innovative way to help Austin."  
Huh? What had I missed? Oh:

You can see the original story, along with interviews with the child and his father, at Fox 7. However, the Austin Chronicle more succinctly summarizes the events:
...the interaction began when a trooper pulled over Angel and his father, Carlos, because their vehicle lacked paper plates. When the child got out of the car to go to the bathroom inside their nearby house, the trooper pointed a gun at him. "I thought they were supposed to protect me," Angel told the TV station. "I was terrified. I was shaking, and then I told my dad that they're pointing guns at me." The trooper then conducted a sobriety test and cited the father for CBD possession.
So much wrong here. It's as if these troopers decided to cram every negative perception of policing into one traffic stop. A minor infraction that escalates into violent confrontation, likely driven by ethnic/class profiling (hard to imagine a Lakeway Little Leaguer with a full bladder drawing the same reaction) followed by a lengthy (and unless consented to, unconstitutional) search of a vehicle that ends with a citation for .... CBD???
CBD, a non-psychoactive form of cannabis that is unconvincingly marketed as an effective treatment for all manner of ailments, is legal in the state of Texas. Why are the guys we called in to save our city from murder wasting their time on something that you can have added to your latté at any number of obnoxious coffee shops?  
How is that even legal? An aide to Council Member Chito Vela explains: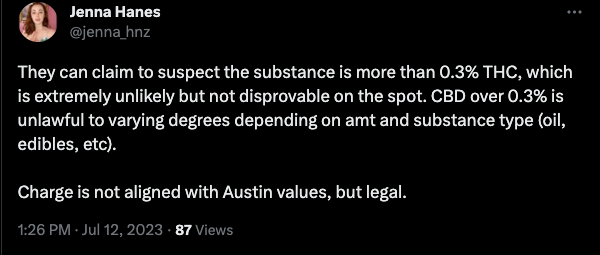 By the way, most Texans, and the vast majority of Austinites, think all weed –– even the stuff that works –– should be legal. That's why we a city policy instructing law enforcement to ignore it entirely.  
Now, however, DPS says that no gun was pointed at the child.
I hope that's true, but if the rest of the story is (spending an hour over a traffic infraction and a BS ticket for CBD), that's still not the law enforcement we deserve.
Could we have an evidence-based conversation about public safety? It's not too late.
This ended exactly how some predicted it would end
When the DPS partnership was announced in late March, a few people I know who I don't consider histrionic anti-police activists predicted that it would end in embarrassment for the city. DPS isn't cut out for the era of police accountability, they said.
And it's not as if there weren't ample warnings in the public record. This is the agency whose leadership horribly bungled and then refused to take any responsibility for the Uvalde massacre. The same agency that has drawn outrage for aggressive tactics from local leaders in Dallas and South Texas. Ironically, DPS, which is supposed to help us reduce traffic deaths, is accused of causing dozens of traffic deaths with irresponsible car chases near the border.  
Rick Cofer, a former Travis County prosecutor who now works as a defense attorney, has taken to Twitter in recent months to criticize the partnership, contrasting what he views as high-quality policing from APD with incompetent, regressive law enforcement by the troopers. His colleagues at the DA's office, he recalled, had a saying: "You can't spell stupid without DPS."
Those who supported the partnership –– and most on Council did –– were likely aware of DPS' reputation but figured that the benefits still outweighed the costs, both politically and in terms of actual public safety. After all, most don't believe that the existence of misconduct –– which occurs at every police department –– justifies police abolition.
This isn't Watson's call. Where's City Council?
Let's return to the press release from Garza...

For the millionth time, the city of Austin does not have a strong mayor form of government! A charter amendment to establish such a system was defeated 86-14 two years ago! In fact, Jesús Garza led the campaign to defeat it!  
And yet, Watson is now acting as a strong mayor, making unilateral policy decisions through Garza.
It's hardly surprising that Garza is subverting our system of government on behalf of his old pal Watson. What's striking is the flagrance of the subversion and how little pushback it's drawn from the body he's actually supposed to serve: City Council.
And yet, I get the sense that some Council members aren't even aware that they're supposed to have a say.

Fuentes' statement is far less deferential but still neglects raising the point that this partnership should never have happened without a Council vote:  

Mackenzie Kelly, Save Austin Now attack decision ... but not Watson
Council's lone Republican, Mackenzie Kelly, released a diplomatic statement calling the end of the partnership as a "disheartening setback" and called on APD and DPS to "explore options for future partnerships."
Predictably less diplomatic was the statement from Save Austin Now, the PAC led by Travis County GOP chair Matt Mackowiak that is focused on crime and public order. "This is a victory for police abolitionists and criminals and a major setback for law abiding citizens and families who only wish to live in a safe city," read a statement from Mackowiak and SAN co-founder Cleo Petricek.
It is very curious that the press release made no mention of Watson, just Garza and the "city." Although SAN endorsed plenty of other long-shot conservative candidates for Council last year, it did not embrace conservative mayoral candidate Jennifer Virden and in the run-off Mackowiak urged people to support Watson over Celia Israel. Hmm...