Common Ground at the Curb
Read the entire article and get free parking (seriously).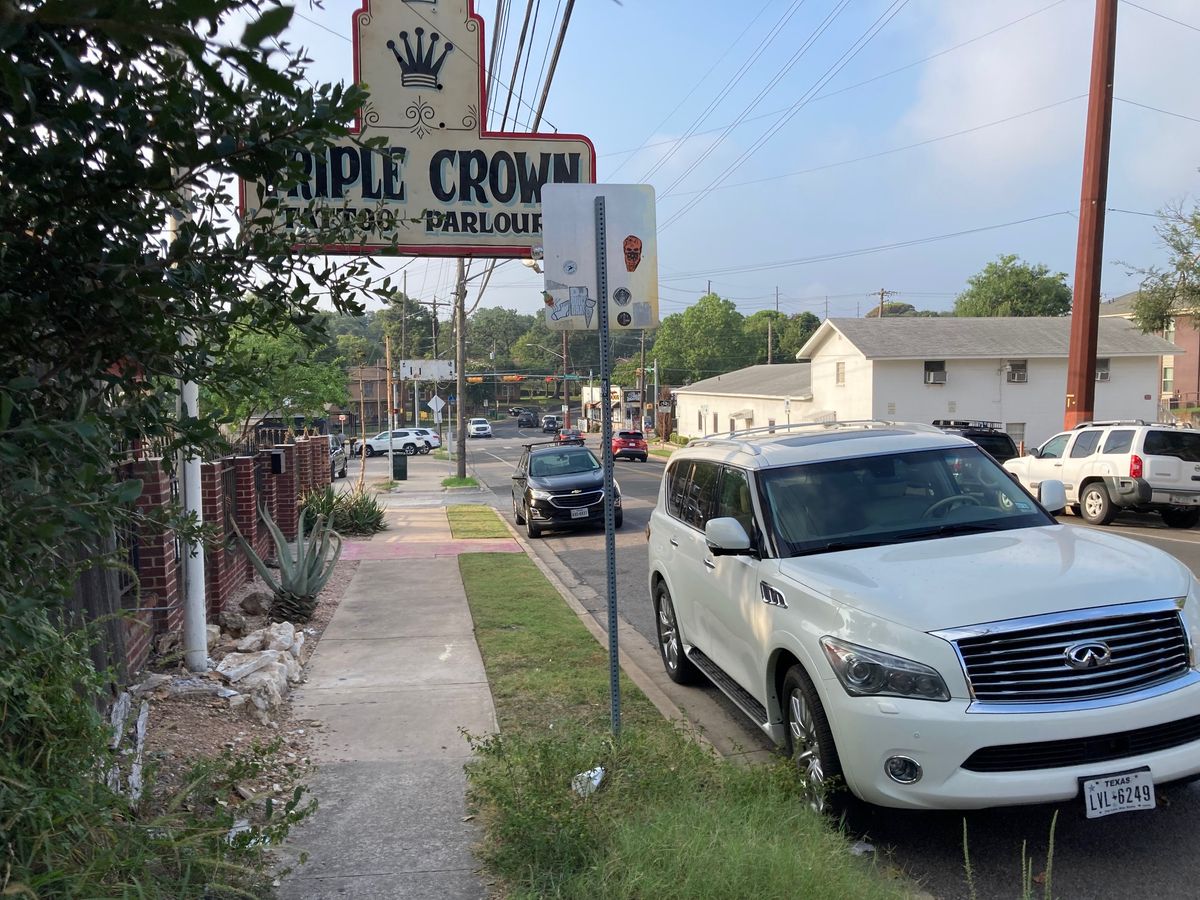 While I'm on vacation, APN is leaning heavily on unpaid labor from readers. Today's piece is from Curtis Rogers, the rare urbanist who began his career in the auto industry, first at Ford and then AutoTrader.com. He later became an early employee of Lyft. In 2010, however, he was given a copy of Donald Shoup's The High Cost of Free Parking and "quickly realized that parking reform represented the smallest change that could produce the greatest impact in cities." Rogers is also a former chair of the Bicycle Advisory Council and a current adviser to Parkade.
Everyone loves free parking, but it comes at a high cost. Austin is seeing record prices for land, but it's generally free for cars. In 2020, Austin's parking department quietly launched a pilot program that could be expanded to create more parking spaces, increase revenue from vehicles, and soften the conversation around what buildings we allow on the corridors.
Paid curb parking has been almost exclusively for areas dominated by commercial businesses and/or multifamily residential buildings (i.e. not single family zoned (SFZ) neighborhoods). This is somewhat natural, because there's rarely much demand for the curb in SFZ areas, so there's no need for a managed curb. The unique case is SFZ areas that are near amenity-rich zones or popular destinations. An unmanaged (free) curb will be overwhelmed with vehicles, since the value of the curb is far higher than a standard suburban street these homes were meant for.
Austin's response to this has been permit parking, which essentially privatizes a public resource for the local neighbors, and no outsiders can park. The optics are not good when the neighbors are mostly wealthy & white, and the visitors/service workers (more likely low income minorities) are not allowed to park. In addition, from a design standpoint, the empty street leads to higher vehicle speeds, making it more dangerous for pedestrians and cyclists.

Before I go further, I just want to say that I'm not against what these neighbors are striving for. I agree with the end (available curb space), but not the means (privatizing public space). I think it's important to find common ground and recognize that no one wants bumper-to-bumper cars lined up along the entire curb, which leads to poor visibility, traffic from people hunting for an open space, and more emissions for everyone. Thus far, these neighborhoods have been given only one tool (permits) to combat curb congestion, and I can't blame them for trying it.
In 2020, Austin launched its first paid SFZ curb in the Woods of Westlake, on the road that leads to the Hill of Life trail. Like most outdoor spaces, this trail was very popular during the pandemic, and the neighborhood needed something to help control the surge in vehicles. This single street generated thousands of dollars in parking revenue (net) with very little infrastructure (mostly signs), and it creates an incentive for hikers and swimmers to consider other trails. The fee to park is not cost prohibitive for anyone that can afford a vehicle, but the price is enough to nudge some to consider other options, or even a different mode for those that can access the trail by bike.
Austin Transportation is in the final stages of launching a similar program around South Congress. Neighbors can maintain existing permits to park on the street near their homes, but the curb is also opened up for outsiders to park for a fee. Through Parking Benefit Districts, neighborhoods get to keep 51% of the net revenue for improvement projects (sidewalks, safety improvements, etc).
Call it a bribe if you want, but it appears to be a great deal. This program generates revenue from outside vehicles rather than local property, and leads to better ADA and pedestrian features. "The proposed parking management district runs from the Union Pacific Railroad to Travis Heights Boulevard between Oltorf Street to the south and Riverside Drive and Barton Springs Road to the north," according to Community Impact.
Allowing anyone to park on the neighborhood streets is a win by itself, but managing curb space near corridors could also lead to less outrage when apartments are proposed. Those opposed to new developments often cite reduced quality of life and loss of "neighborhood character," but if you continue asking questions, it's usually the overflow vehicles they fear more than the new building. If we better manage the curb, we can calm these fears, and existing residents might welcome the new walkable amenities without panicking about additional cars on their street. And any new vehicles will be generating revenue for the neighborhood. Money talks, and we shouldn't hold back the power of a marketplace.
It's not too much of a stretch to see how a better managed curb could pave the way for more housing. Of course there will always be opposition to developments, but there will be little validity to their arguments if the street is under control with good rules.
So far, Austin's neighborhood parking options have been the extremes: free-for-all or private for the locals. A hybrid option of Permits + Paid Curb offers a solution that maintains order on the curb AND financially supports the local area. Austin is lucky to have these existing tools that can easily be combined and rolled out by simply updating signage (no meter for every spot). Curb space is arguably our most abundant public resource in Austin, and we've barely scratched the surface of its potential.
You can find more from Curtis on Twitter, and use codes FREE15ATX1 & FREE15ATX2 on the Park ATX app. Each code is good for 15 minutes of free parking, and the codes refresh daily.