Council to APD: Show us the numbers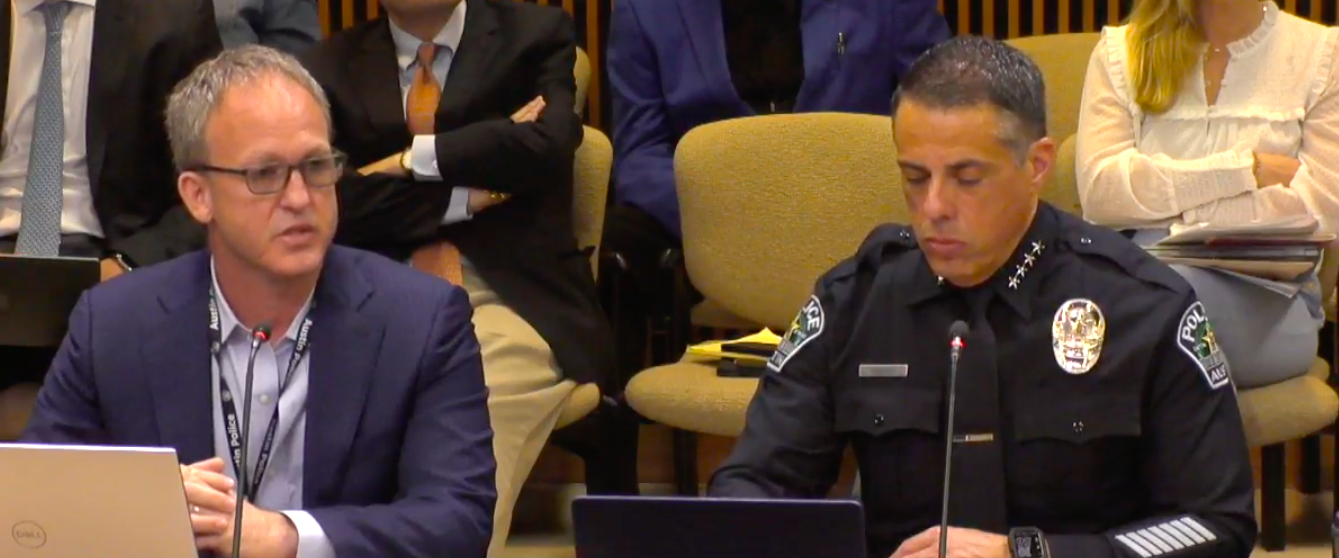 The ever-growing Austin Infill Coalition: Yesterday I had the pleasure of talking to members of the Austin Infill Coalition at El Mercado on S. 1st alongside Austin Sanders of the Chronicle and Emily Dove, a policy adviser for Texas 2036, which is supporting a number of pro-housing bills at the Texas Legislature. Sanders and I shared our thoughts on how the new Council is approaching housing and how the politics of housing have changed in recent years.
Above all else, I said that the idea that Austin is in a housing crisis is no longer contested at City Hall. Nor is it contested that addressing housing affordability is Council's #1 priority. Now, there are certainly still members of Council whose actions do not reflect that belief, but at least we're now at a point where everyone pretends to believe that we need more housing.  
There were other interesting points raised by the builders that I will dig into tomorrow...
Council hears from APD about the DPS collaboration
Three weeks since APD announced its collaboration with the state Dept of Public Safety, City Council members got a chance to publicly grill Chief Joe Chacon and City Manager Jesus Garza about the operation.
I wouldn't say that the tone from Council members was hostile, but there was an undercurrent of frustration with APD for not providing more data about the operation.
On the bright side, I was happy to see APD offer some numbers on violent crime that I think are a little bit more useful than what Chacon provided in his memo last week. Jonathan Kringen, APD's chief data officer, explained that violent crime during the first two weeks of the DPS collaboration was substantially lower than during the same two weeks last year. I'm still not ready to attribute that to DPS, but it's closer to an apples-to-apples comparison than comparing one week this year to the average week last year.
During the first week of April '22, there were 89 violent crimes, while during that week of April '23, there were 67. (Coincidentally 89 was also the number of violent crimes that Chacon reported occurred in an average week last year)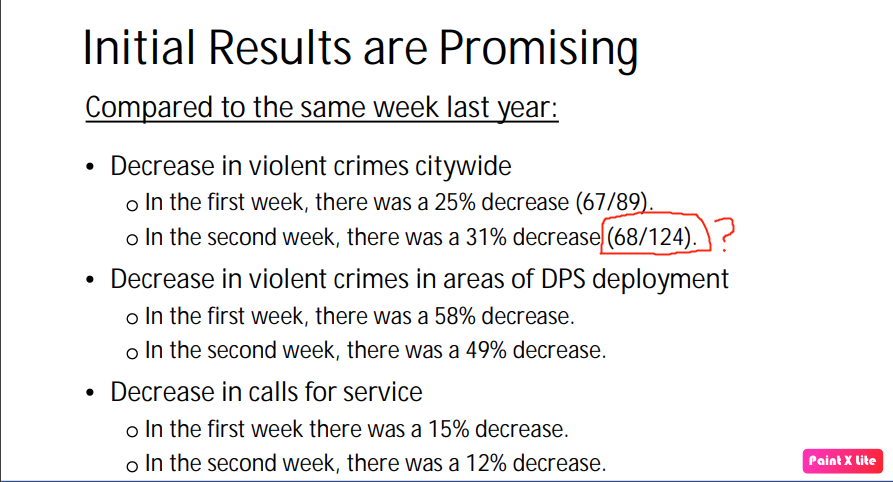 However, something is definitely not right about the numbers presented for the second week. A decline from 124 to 68 ≠ 31% decrease. It would be a 45% decrease. I imagine this is due to a typo: 68 is supposed to be 86, which would be a 31% decrease from 124. I'm still surprised that nobody else caught this during the meeting.
But what about the previous weeks?
CM Ryan Alter asked to see the same year-over-year comparisons for the weeks prior to the start of the DPS operation.
"How does that compare this year to last year," he asked. "Did we already see some kind of reduction?"
Kringen responded with a very lengthy discussion of the different data he had presented and the different methods he uses, but did not directly answer Alter's question.
After some additional back-and-forth, Kringen finally said that he had looked at the week prior to the DPS partnership and there had been a "statistically significant reduction in the amount of crime."
However, when I followed up with Kringen today, he said that he had miscommunicated and that the statistically significant drop did not occur until the DPS deployment.
In fact, Kringen told me that in the last week before the DPS deployment, there were 124 violent crimes reported. During the same week last year, there were 104.
This would all be a lot clearer and instill much more trust in APD if they released the year-over-year comparisons for every week this calendar year. Otherwise it makes it seem like they're hiding something.
Where are the patrols?
Jose Velasquez and Vanessa Fuentes wanted more information on where the DPS patrols are concentrated and the demographics of those being stopped and/or arrested. Velasquez raised concerns about areas of his east side district being heavily targeted.
The response from Chacon is that the patrols are targeting areas with the highest volume of calls for service.
This speaks to an issue in policing that may never be completely resolved. The police understandably assign more resources to areas with higher levels of crime. As a result, people who live in those areas are more likely to get busted for low-level offenses, from traffic infractions to drug possession. And this creates the perception, fairly or unfairly, that certain communities are being overpoliced.
Zo Qadri asked for more detailed information about the scores of arrests DPS has reported making. How many of them were for violent offenses and how many were for drug offenses?
Chacon said that he would try to get that information from DPS. He also couldn't say for sure how many DPS troopers were taking part in the operation.
Chacon and Garza defend the partnership
Interim City Manager Jesus Garza kicked the meeting off with a staunch defense of the partnership, calling it a necessary response to the police department's staffing issues and saying that it reflected the "bias for action" that he seeks to instill in city government.
"We knew we needed to address significant issues that were unacceptable: record high response times for calls for assistance, an increase in gun crimes and high profile incidents like the street takeovers that occurred shortly after my appointment," he said.
Chacon said that he is in constant communication with DPS Regional Director Vincent Luciano and that he is having weekly briefings with the agency leaders to help them understand our weird city:
"Many of them have never worked in Austin before. So we want to make sure they understand what our community feels like, what is the culture of Austin, what can they expect as they conduct their operation within the city and importantly, what are my expectations as chief of police on how this community expects to be policed?"
Only moments he later, he stressed the opposite:
"Texas DPS has jurisdiction statewide. It is not new for them to be in the city of Austin. They've been here. Many of the people that I go to these briefings with, I've known for years because they work in the city of Austin and they understand the city of Austin."
He also said that Luciano talks regularly with District Attorney Jose Garza and County Attorney Delia Garza, and that DPS seeks to "align their enforcement actions with prosecutorial practices."
Perhaps. But Luciano also reports to state leaders who clearly seek political conflict with Garza and other progressive prosecutors, so I'm skeptical of any stated commitment to "align."
Response times
APD reports that response times have dramatically improved as a result of the DPS operation. "Emergency" calls refer to serious crimes that are in progress, such as a robbery. "Urgent" calls refer to serious crimes that have already concluded, such as a store owner calling 911 after being robbed.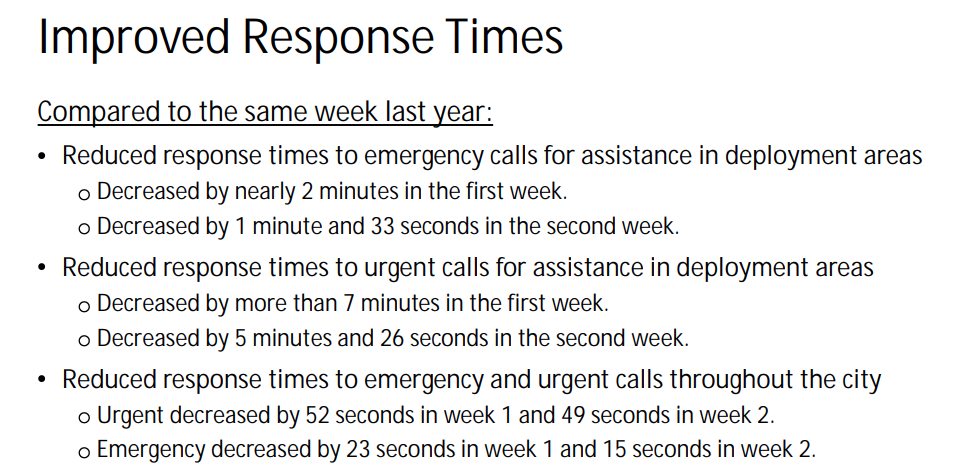 Reduced call times are definitely great, but there's also probably too much emphasis on them in the public discourse about crime. Back in 1981, future Austin City Council member Bill Spelman, a UT criminologist, concluded that fast response times only matter in about 10% of crimes.