Papering over the budget
A weird ploy by the city manager against transparency.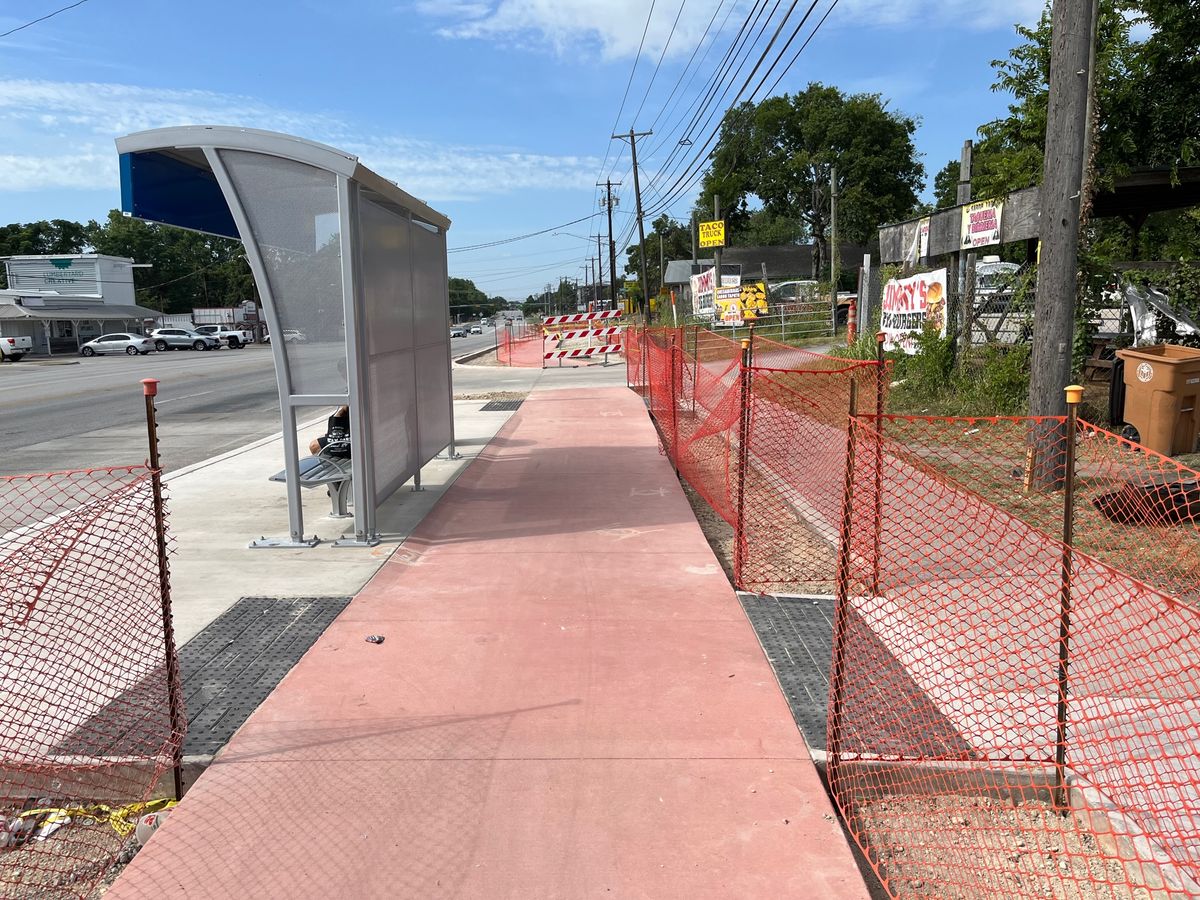 "Are you Amish, or do you just detest convenience?" – The Afterparty, Episode 2, Season 2
On Friday, City Council members and their staff anxiously awaited the publication of the proposed budget. Staff from the office of City Manager Jesùs Garza, who is responsible for preparing it, had told them that it would be published online Friday, allowing them several days to look through the 1,021-page document before the first budget work session on Wednesday.
Instead, at 4:30 p.m., a massive binder with one printed version was dropped off at each Council office by two junior employees of the city manager. Council members who asked about the online version were told that would be available Wednesday.
There were still untouched binders in front of several Council offices early afternoon today.
In response to what was likely a flurry of questions and complaints from Council members, the media and the public, the city surrendered to reason on Sunday afternoon and published the budget online.
When I asked for a comment on the matter today, a city spokesperson referred me to a memo from Chief Financial Officer Ed Van Eenoo:
As you may recall, we have traditionally posted the electronic version of the Proposed Budget document on the same day as the staff budget presentation. This year, the budget presentation is scheduled for Wednesday, July 19. However, in response to requests from several council members to receive the electronic document earlier this year, we posted it to Austin Finance Online today at 4 PM
OK, but the budget was typically put online many days, if not weeks, before Council's first budget-related meeting. This still doesn't make sense.
To be clear, this is not an issue of technical competence. It's not as if the city was able to print out 10,000 pages of budget documents on Friday but couldn't figure out how to upload a PDF online. The only plausible explanation for not publishing online was that Garza wanted to make it as hard as possible for Council offices and members of the public to scrutinize the budget before he and his staff have to field questions about it on Wednesday. It's a bare-knuckled tactic to maintain control of the process.
Leslie Pool's dizzying political transformation
On Thursday, City Council will take up a resolution sponsored by Leslie Pool aimed at reducing the minimum single-family lot size by more than half and allowing a minimum of three units on each parcel.
It's surreal to see arguably the most ambitious land use change this year would come from Pool, who for most of her eight-and-a-half years on Council has been closely aligned with neighborhood groups opposed to increased density.
YIMBYs are over the moon. Former Planning Commissioner and affordable housing developer Conor Kenny, for instance:
In an email to constituents, Pool described her proposal as aimed at creating homeownership opportunities for a middle-income earners who can no longer afford to buy what the city's code-constrained market offers, particularly in central neighborhoods.
As the real estate market in Austin speeds on, impervious to national economic bumps, I'm increasingly alarmed that we're leaving many of our residents stranded: young couples ready to invest in a home and raise their kids; older folks who struggle to pay their mortgage and taxes; teachers, first responders, construction workers, nurses; people with great jobs but still struggling to live here.
The City's own Housing Market Analysis from 2020 shows that townhome or triplex styles attainable for middle-income families make up only about 12% of our housing stock.

This leads to the expected result in an expensive market: updated research from last year shows that home ownership for middle-income earners in Austin dropped to 28% of that group, from nearly 50% in 2012.
Considering how much pricier housing is now than 11 years ago, the stat is predictable but striking nevertheless. This should be a leading talking point for reform.
Towards the end, Pool seemed to address her own evolution on the issue:
These types of code amendments might have been hard conversations for many of us in the past, but I am confident we are ready to have those discussions in the community. I'm hopeful this initiative will help achieve the kind of gentle, incremental change that strengthens neighborhood character and vitality with more neighbors who can share the benefits of our growing community.
Pool's former allies aren't going to take this lying down of course. Community Not Commodity, the group run by Fred Lewis that has led the political and legal fights against virtually every land use reform in the past five years, posted an urgent appeal to supporters to oppose the "elimination of single-family zoning."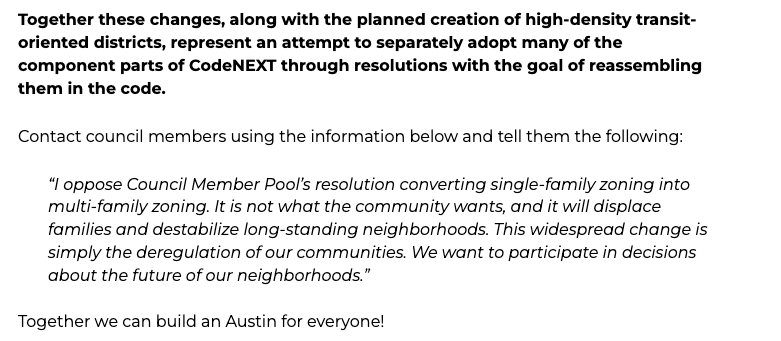 In fact, the zoning changes that are in the works, including Pool's proposal, are actually far bolder than anything included in CodeNEXT.