What can Austin do to combat climate change?
The city is uniquely-positioned to reduce carbon emissions.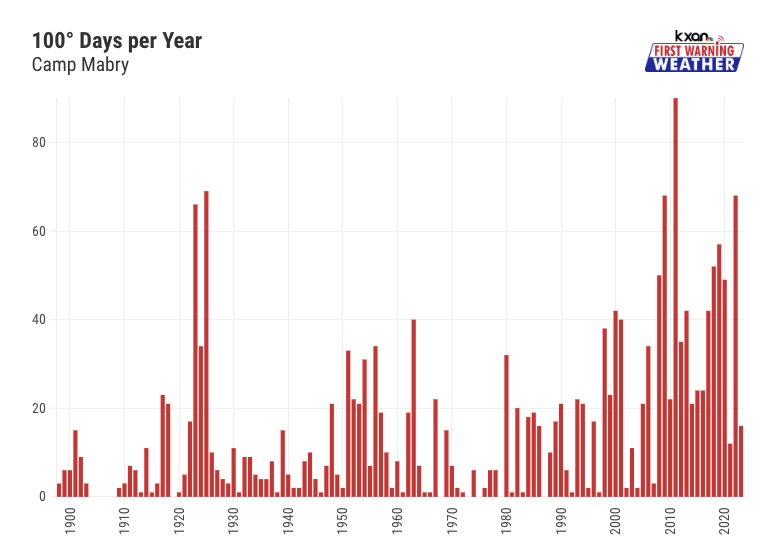 I've returned to the inferno! Granted, like the rest of the world, Central Oregon was unusually hot; July 4 was the hottest day on Earth since at least 1979.
The chart above from KXAN shows a clear trend towards more extreme heat in Austin. The trend allows for fluctuations, of course, such as 2021, when we were blessed with a mere 12 days of triple-digit temperatures.
But the data by decade shows that we are in the midst of a much hotter era. We're only three-and-a-half years into this decade and we've already matched the number of 100-degree days in the 80's and 90's.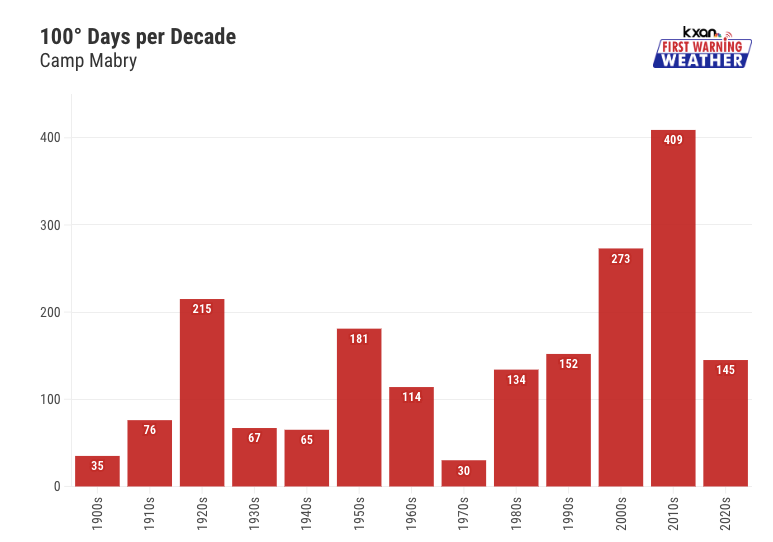 It would be really interesting to see polling on what link, if any, Austin residents see between climate change and local public policy. Do they believe local elected officials bear a responsibility to combat global warming? Or simply to mitigate its effects?
Obviously there's not much one U.S. city can do to alter the global climate trajectory, but there's a lot it can do to reduce its residents' per-capita contribution to climate change.
Austin is actually uniquely-positioned to reduce per-capita carbon emissions. First, the city owns its electric utility and is therefore able to pursue ambitious decarbonization goals. Second, because Austin is rapidly growing, the city has more room to influence the living and travel habits of future residents. In other words, our land use and transportation policies will affect what share of newcomers end up in walkable or transit-oriented neighborhoods where they will not need to drive as much.
In the past six months City Council has made some good moves on the land use front. It has put into motion a number of code amendments aimed at allowing greater density and mixed-use development, notably by eliminating parking requirements and reducing compatibility standards that restrict building height. If we make the very tenuous assumption that these proposed changes will be faithfully implemented by Interim City Manager Jesus Garza and his staff, they will allow more Austinites to make fewer trips by car.
On transportation the record is decidedly mixed. The city continues to make progress on building pedestrian and bike infrastructure that was funded by past bond measures. At Council's urging, Austin Energy upped the rebates it offers for e-bikes.  
Project Connect is climate-friendly, of course, although I worry that we're not stretching the available dollars nearly as far as we could. More on that another day...
However, the bias towards car-centric planning remains overwhelming. Current and past transportation leaders at the city, including former Transportation Department Director Robert Spillar and the largely absentee former Assistant City Manager for Mobility Gina Fiandaca, were extremely hesitant to make any changes that would upset drivers. When City Council ordered the creation of pedestrian-friendly "slow streets" in the early days of the pandemic, staff immediately came up with lame excuses to undo them. Locally, there is nothing compared to the ambitious steps other major cities around the world –– Paris, Madrid, New York –– have taken in the past few years to make streets friendlier to pedestrians and cyclists.
Worst of all, of course, is the expansion of I-35 that was largely orchestrated by our current mayor during his time in the State Senate. There's no better way to induce more sprawl and more driving than to add four lanes to a highway that hasn't seen an increase in traffic volumes in 30 years.
The HealthSouth project dies
This is very disappointing. From KUT:
A two-tower project in downtown Austin dubbed HealthSouth has come to a halt.
The city entered into an agreement last year with Aspen Heights to redevelop the nearly 2-acre site. The project, located near Waterloo Park and the Dell Medical School, would bring a mix of uses, including 921 apartments — 25% of them affordable — affordable commercial space, an affordable child care center, and a live music and art venue. The site has been vacant since 2016.
...In a memo to the City Council last week, Assistant City Manager Veronica Briseño wrote that the developer said the terms of the agreement were "no longer financially feasible due to market conditions."
Briseño said the developer suggested scaling back on the terms of the agreement — for example, by reducing affordable housing on-site from 25% to 7%.
The city extended the agreement six times, but was ultimately unable to reach a deal with Aspen that stayed within the city's goals, which include creating affordable housing close to jobs and day care centers.
"For these reasons, the city is terminating the [contract]," she said.
The developer's claims should not be accepted without scrutiny, but shouldn't City Council have had the chance to evaluate them first? I fear this is one of many instances of city housing staff's tunnel vision, where a market-rate housing is assigned zero value and the focus is on the percentage of units that are income-restricted, rather than the total number produced. In that thinking, a 100-unit project that is 25% affordable is better than a 1000-unit project that is 10% affordable.
Some city leaders, however, said the "sudden decision" to terminate the agreement was premature.
Council Members Zo Qadri and Natasha Harper-Madison requested an executive session or discussion at the council's upcoming July 18 meeting.
Hmm...
Interview with Brad Swail
The other week I was a guest on the Austin City Councilman podcast, where I discussed the Zilker Vision Plan, Interim City Manager Jesus Garza, Project Connect and other stuff. Swail has very different views on just about everything than I do, so I appreciate him hearing me out. Listen on Spotify or Apple Podcasts.